The conference venue is in the lecture room building close to the Science Faculty building of the University of Valladolid.


Address: Paseo de Belén 7, Valladolid 47011 (Spain)
Location on Google maps

All the talks will be held in a room (to be determined) with a projector and blackboard.
A possible, nice walk (around 29 minute long) through the center of the City from the Hotel Boutique Catedral to the Science Faculty (or vice versa) can be found here: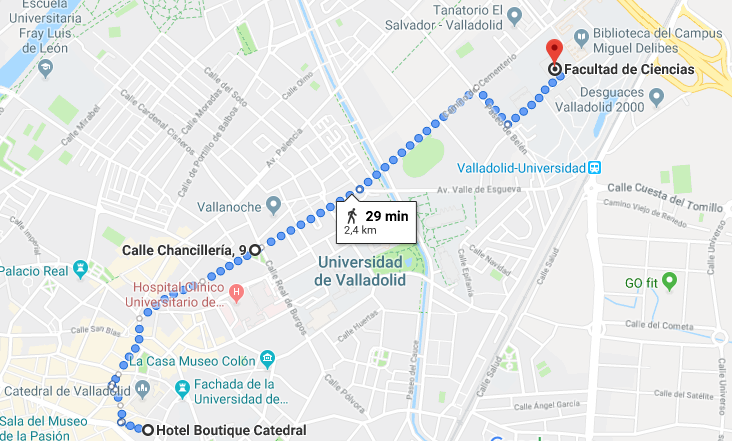 You can also take the bus, line 8, which runs every 12 minute. Every trip is 1,50 euro, which you should pay to the driver when getting on the bus through the front door (only credit card is accepted, no cash is allowed):
When going to the Faculty: First walk from the hotel to the Plaza de la Fuente Dorada (3 minutes), and take there line 8 (the sign in the upper part of the vehicle front reads «8 Bº BELEN») to the Campus de Miguel Delibes (last stop), where the Science Faculty is located (a 2 minute walk from the stop).
When coming from the Faculty: Take the bus in the stop near the Faculty, where only line 8 starts, and get off in Santuario Street, then walk to the hotel (around 3 minute walk).